I've always had trouble finding the perfect dress shirt - a problem that many athletic males face. With wedding season approaching, this problem began to become even more of a reality.
In the spring of 2016, I recall looking over at my refrigerator and being appalled by the number of "save the dates" I had pinned to the door. I had 5 weddings to attend (groomsmen in 2 and the groom in one). Instead of being excited to stand by my closest friends on their most important days, all I could envision was standing up in the summer sun sweating through my heavy, (most likely) rented dress shirt.
I refused to put up with this dreaded scenario, so I set out to find best wedding dress shirt. After some digging around, I heard through some of my pro hockey buddies about a company that made the perfect wedding dress shirt: State and Liberty.
I quickly ordered up my first State and Liberty dress shirt and I was blown away. Immediately after it was delivered, I threw on the dress shirt and I was absolutely shocked at how lightweight and stretchy it was. The fabric was amazing, feeling just like one of my favorite workout shirts and surprisingly having the same qualities: moisture-wicking and wrinkle free. On top of the fabric, the fit was unlike any other dress shirt I've tried. They claim to have this "athletic fit," which was perfect for me as a pro hockey player. The shirt gave me the proper room in the upper body, hugging me with just enough room, and was perfectly tapered through the midsection and waist. After minutes of trying it on, I knew this dress shirt was going to relieve all the previous anxiety I had for these weddings.
I had finally found the solution… I immediately emailed their support team asking if they had a bulk discount they would supply dress shirts for my groomsman. I received an almost instant response from one of the co-founders. He gave us a discount on the shirts, monogrammed the cuffs with our initials, and even went as far as monogramming our wedding date (in my wife's favorite color) in the inside of the collar.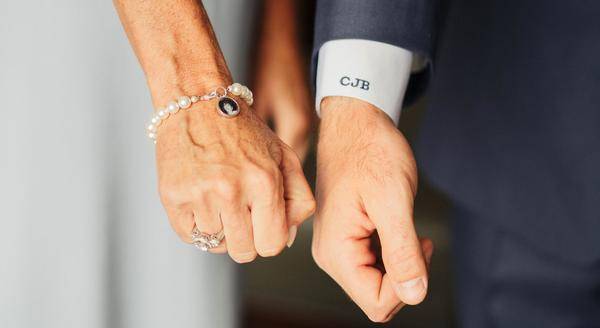 Needless to say, the days of sweating through my dress shirts at summer weddings are over. I am beyond grateful for State and Liberty creating the perfect dress shirt and making it their priority to ensure their customers are taken care of. I always get excited to share this experience with others and I will always continue to spread the word that they make the best dress shirt for summer weddings.
If you're looking to try out a shirt for your wedding, you can reach out to us at support@stateandliberty.com or check out our first time customer and bulk discount codes.