When the weather warms up it's time to start thinking about the best summer outfits for men. Show off your fashion sense by getting some trendy summer outfits in your wardrobe, and one of the best ways to be prepared for summer fashion is to add some lighter materials and colors to your closet. When it comes to men's fashion during the warmer months the obvious choice is a breathable cotton polo that is comfortable with a professional look, especially when layered with a blazer for those cooler summer nights. And don't forget to add some moisture-wicking tech shorts to your wardrobe, which are great for looking stylish while keeping cool on even the hottest days. Whether you're on the golf course or out on the town, it's time to put away the heavy clothes and stock up on athletic fit performance fabrics. Here's a full rundown of the summer outfit must-haves for men: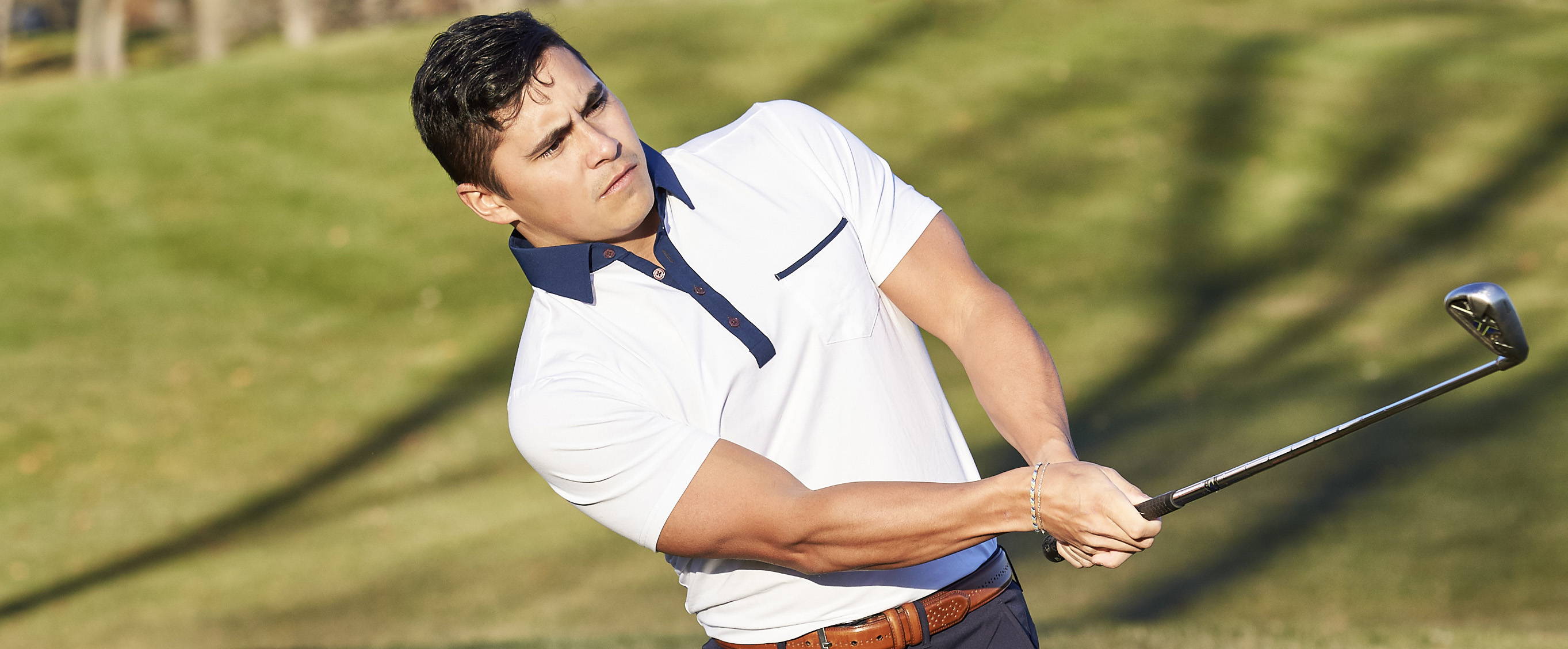 Athletic Fit Cotton Polo
As much as we want to keep our outfits casual all summer, men need to stay professional sometimes too. Athletic fit cotton polos are a solid addition to your office and work outfit selection during the summer months. With polos you still have the ability to look sharp with the structured collar, and they look great when layered with a blazer or quarter zip when you are in an air conditioned office or out on a cool summer night. Made with a cotton-spandex blend, these polos provide both comfort and stretch while still being appropriate for business casual attire. Not just limited to the office, these polos are versatile and can also be worn out on the town or at a dinner party. With this addition to your closet, you'll have a stylish option for any summer occasion.
---
Stretch Tech Polo
What's better than a reliable, classy looking structured collared polo shirt that can be worn for any occasion? Perfect for all different events, and without those big tacky logos, a stretch fit polo can help you look professional no matter where you are going. The summer heat can be overwhelming for men, but with moisture-wicking fabric you won't have to worry about sweat stains, whether you're at work or on the golf course. These polos are a must-have for any men's summer outfit, and having polos in a variety of colors will keep you looking fresh over and over again.
---
Stretch Tech Shorts
Shorts are obviously a crucial part of your closet during the hottest summer days. Stretch shorts can offer a perfect blend of style and comfort, with a moisture-wicking stretch fit that keeps you cool. The performance fabric blend provides ample movement without any restriction, making them perfect for activities such as golfing or a casual walk downtown. These shorts can easily be paired with a t-shirt or a polished polo, providing versatile options for any men's summer outfit.
---
Light Colored Suit Pants
Summer is an opportunity to showcase your fashion sense and style. To make the most of the season, it's important to have a variety of colors in your wardrobe. To create the best summer outfits for men, switch up your darker suit pants for lighter shades. Adding some lighter colored or patterned stretch fit suit pants to your wardrobe will refresh your look and make a great change from the usual black or dark gray pants. Everyone in the office has seen your black or dark gray dress pants enough, time to spice it up with some lighter colored or patterned stretch fit suit pants. Also made with our lightweight performance fabric, you will never feel this comfortable in a pair of suit pants. Nothing beats a nice pair of breathable pants, especially in the warm summer months.
---
Casual Button Down
Men can never have enough casual button downs in their outfit arsenal. Button downs are a very versatile shirt that can be worn for a sharp business look, or a casual dinner party or barbecue. Perfect for a summer night, casual button downs can be worn untucked and the moisture wicking fabric will keep you cooled down. Made with lightweight athletic fabric and moisture-wicking technology, these shirts are perfect for staying cool while looking stylish. The wrinkle-free material makes them great for traveling, and the V-shaped athletic fit ensures a comfortable and flattering fit for athletic body types.
Don't wait any longer to prepare your summer outfits. With State & Liberty, men don't have to choose between looking good and feeling comfortable. Replace your dark, heavy clothes with new athletic fit clothing this summer. You will not regret it when you are comfortable and everyone else is sweating through their clothes.
SHOP STATE & LIBERTY SUMMER OUTFITS
Sign up for our newsletter to be the first to hear about new products.